Hey baby…When was the last time you saw an evil baby?
Ridiculous movies like "The Omen" aside (which are little more than absurd fantasies) have you ever seen or even heard of an evil newborn?
You haven't have you? Of course not. No one has.
Newborn babies are pure innocent beings. This is the time of year when the movie "It's a Wonderful Life," which I have mentioned before in this column, is often viewed. That's the movie where George Bailey's angel, Clarence Oddbody AS2 (angel second class as he tells us) gives George Bailey his wish - he changes the world so George Bailey had never been born. But think about that for a moment..
George Bailey doesn't wish he was never born until some time later in his life. Not so when he was born. As a newborn, we are all God's innocents. God is glad we are born. He always loves us. But what happens between when that same baby is born and later on when George Bailey, or anyone like George Bailey wishes he or she had never been born?
A few days ago I made one of my extremely rare excursions to a shopping mall. Not by choice, merely by happenstance. I hate shopping. It is sort of a by product of being a nun I guess. So there I was in my habit and veil, as you see me above. I was there with two other women, one of them being an elderly woman whom we take care of. I have a habit (pun intended) of wearing white socks with my black habit and black veil. I will get into how that particular habit started at a later time. The elderly woman notices my white socks and offers to buy me some black socks. She tells me I should wear them so "I look official." Mind you, I am used to getting questions like "are you a recognized convent?" My answer is usually something along the lines of, "Yes, I recognize the convent every time I come home" or "Yes, God knows who we are." This time I merely replied, "God hears my prayers no matter what color socks I am wearing."
The elderly woman, whom I will call Agnes, takes this as a cue to mean that God speaks to me personally and answers all my prayers as if I had a hotline to God and could simply pick up the phone and dial up Heaven. I assured her that God hears my prayers, but the answers aren't always what I want - good thing too. I can think back on all of the earlier times in my life when I too wished that I had "never been born" (or "never existed" as I put it). God never answered that prayer. My guardian angel, what ever his or her name may be, simply chuckled a bit, and went back to the business of protecting a rather clumsy woman who would one day be a nun.
Agnes has quite a few illnesses - she survived tuberculosis. She has emphysema, one lung doesn't work, the other has cancer. She has also had a stroke. She is now in a wheel chair. This is the point at which Agnes turns to me and says, "well then ask God why I have all these things wrong with me."
At this point I mentioned that I don't have a hot line to God but she certainly could ask Him herself. "But you said he answers all your prayers," Agnes said.
There lays the rub, as Shakespeare would have said. God may hear all my prayers but the answer isn't always what I wanted it to be. Again, good thing too. What I didn't mention was the obvious. God didn't make Agnes smoke for 52 years. She did that one on her own, and caused much of the problems her self. This brings me to the second point.
Agnes certainly wasn't born with a cigarette in her mouth. We are all born innocent babies. But
a lot
of what happens to us in between the time when someone is born, and the time someone may wish they had never been born is up to us. We are born innocent, but after that, even if God has a plan for our lives we are all free to "give God the finger" and go our own way. And that, my friends, is where the trouble starts.
Notice I said "a lot" above. There are times when we all say "How can God let that happen?" Well the operative word there is what ever the "that" is. The reasons are as myriad and varied as the number of people to which "that" occurs. Some times bad things happen to good people. Sometimes, they happen for a reason. My own mother was born with cerebral palsy. She told me once that she thought she would not have become the warm person everyone loved if she had not been born with cerebral palsy. As the result of mom's "that" I also learned. To me mom's cerebral palsy was just part of mom. It meant she needed a bit of extra help some times but it taught me a lot. On the face of it mom's cerebral palsy might have been considered a tragedy by some. But not by mom, and not by me. We are both better people today because of it.
But what about those times when we have made a mess of our lives ourselves? When my life was a shambles and I wished "I had never been born" I did it to my self. But even if I wasn't glad I had been born, God WAS glad that I had been born. Not only that he still had a plan for my life.
Remember the article I wrote about life not coming with a contract? Well it may not come with a contract, but it DOES come with promises. The great thing about those promises is that the ones that life comes with - the ones that are "installed at the factory" before we are born - is that they are made by God. The great thing about promises made by God is that, even if we don't live up to what God expects of us, He ALWAYS lives up to His end of the deal. God always keeps His promises. Even if we have spent part of our lives giving God the finger. He always forgives us. He always takes us back.
So why is God so generous? Why does He do all this? Because my friends, of one very special baby…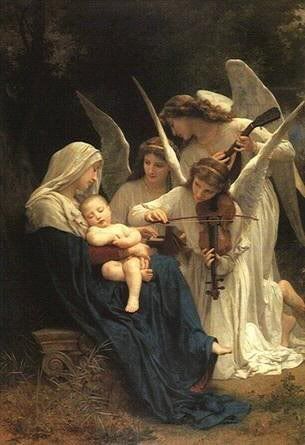 The baby Jesus.
Merry Christmas everyone