It is a group that no mother wants to be qualified to join – American Gold Star Mothers.
No mother should have to bury their child.
But there are times when they do.
Who are gold star mothers? The best way to explain is with a quote from the history on their website located at: http://www.goldstarmoms.com/agsm/WhoWeAre/History/
"Often the question has been asked, "Who is a Gold Star Mother?" During the early days of World War I, a Blue Star was used to represent each person, man or woman in the Military Service of the United States. As the war progressed and men were killed in combat, others wounded and died of their wounds or disease, there came about the accepted usage of the Gold Star." – American Gold Star Mothers
First let me put a face to a name. This is the woman who founded this group, Grace Darling Siebold: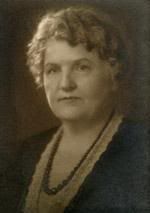 Who is this woman? What caused her to found this group? Again, I will let the American Gold Star Mothers themselves explain:
"When the United States entered World War I in 1917, George Vaughn Seibold, 23, volunteered, requesting assignment in aviation. He was sent to Canada where he learned to fly British planes since the United States had neither an air force nor planes. Deployed to England, he was assigned to the British Royal Flying Corps, 148th Aero Squadron. With his squadron, he left for combat duty in France. He corresponded with his family regularly. His mother, Grace Darling Seibold, began to do community service by visiting returning servicemen in the hospitals.

The mail from George stopped. Since all aviators were under British control and authority, the United States could not help the Seibold family with any information about their son.

Christmas Eve, 1918, the postman delivered a package to the Washington, DC residence of George and Grace Seibold. The package was marked, "Effects of Deceased Officer, First Lieutenant George Vaughn Seibold, Attached to the 148th Squadron, BRFC." No other information was provided.
After months of inquiry, the family received official notice. "George was killed in aerial combat during the heaviest fighting over Baupaume, France, August 26, 1918." His body was never recovered.

Grace, realizing that self-contained grief is self-destructive, devoted her time and efforts to not only working in the hospital but extending the hand of friendship to other mothers whose sons had lost their lives in military service." – American Gold Star Mothers
Sadly, there are many new faces who are eligible for membership in this group – the war in Iraq has changed all that.
"Its ranks [American Gold Star Mothers] dwindled substantially, threatening its survival, as members grew older and died. But the Iraq War and the war in Afghanistan are making thousands of women eligible for membership." – Susan Sarkauskas, Daily Herald for May 28, 2007, "War-torn Mothers"
This is the face of the war that is closer to home. These aren't civilians in countries that are a half a world away. These are the children of parents in our communities. This is another face of the war that George W. Bush started. This is a face of the war that it is important for everyone to see. It is the face of young men and women who died too soon – some of them, missing in action, will never come home..